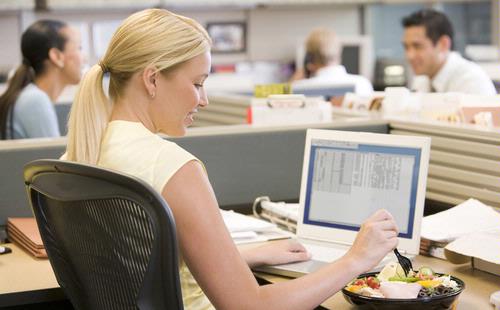 Bekerja sebagai karyawan di kantor mungkin memberi kenyamanan bagi sebagian besar orang. Tetapi, tanpa disadari, bekerja di kantor ternyata tak selamanya menguntungkan.
Menurut sebuah studi terbaru, bekerja di kantor yang mengadopsi konsep modern dapat memperburuk kualitas otak dan menurunkan produktivitas. Kantor modern dengan suasana yang ramai ternyata dapat menurunkan kualitas kesejahteraan pekerja hingga 32 persen dan menurunkan produktivitas hingga 15 persen.
Seperti yang terungkap dalam The Secret Life of Buildings, salah satu program yang ditayangkan di stasiun Channel 4, para ahli berpendapat bahwa konsep kantor tipe terbuka (open plan offices) yang banyak diadopsi saat ini justru merugikan karyawan. Kantor tipe seperti ini dapat memicu aktivitas yang tidak dikehendaki otak. Aktivitas yang "mengganggu" ini bisa muncul kapan saja saat karyawan menjalankan tugas.
Dalam acara televisi tersebut dibuktikan bagaimana karyawan yang bekerja di kantor tipe terbuka mengalami serangkaian gangguan/distraksi yang memecah konsentrasi. Presenter yang juga kritikus arsitektur Tom Dyckhoff menjalani sebuah tes dengan cara menggunakan topi khusus yang mengukur gelombang otak ketika ia bekerja di kantor tipe terbuka.
Kantor tipe open plan diperkenalkan pertama kalinya pada era 1950-an dan telah berkembang menjadi gaya perkantoran yang populer. Kantor ini didesain dengan harapan karyawan bisa bergerak dan berinteraksi secara bebas sehingga menjadi lebih kreatif dalam berpikir dan memecahkan masalah.
"Tetapi, buktinya tidak seperti itu. Jika Anda sedang bekerja dan mendengar suara telepon di belakang, hal itu membuat konsentrasi Anda buyar. Meski Anda tidak sadar pada saat itu, tetapi otak tetap memberikan respons terhadap distraksi," ungkap Dr Jack Lewis, ahli saraf yang menggagas tes tersebut.
Kantor-kantor bergaya modern, yang tidak mengizinkan dekorasi barang pribadi atau adanya tembok atau meja-meja, justru tidak membantu karyawan.
Dr Craig Knight, psikolog dari Exeter University, mengatakan, kebebasan yang diberikan kepada karyawan untuk mendekorasi atau merancang ruangannya secara pribadi dapat meningkatkan kinerjanya di kantor.
Perusahaan-perusahaan menyukai usulan memberikan ruang kecil untuk karyawan bekerja dan semuanya seragam tanpa adanya embel-embel yang tidak perlu.
"Namun, dalam percobaan yang kami lakukan, para karyawan memberi respons yang lebih baik pada ruang yang telah ditambahkan dengan gambar-gambar dan tanaman. Jika mereka diberi kebebasan untuk mendekorasi ruangannya dengan barang mereka sendiri, itu akan meningkatkan kesejahteraan mereka hingga 32 persen dan produktivitas hingga 15 persen," terang Knight.
Hal ini, lanjutnya, disebabkan karena mereka dapat melebur dengan lingkungan sekitarnya, merasa lebih nyaman, dan lebih berkonsentrasi.
sumber:

http://rudy-doank.blogspot.com/2011/10/kerja-kantoran-bisa-merusak-otak.html