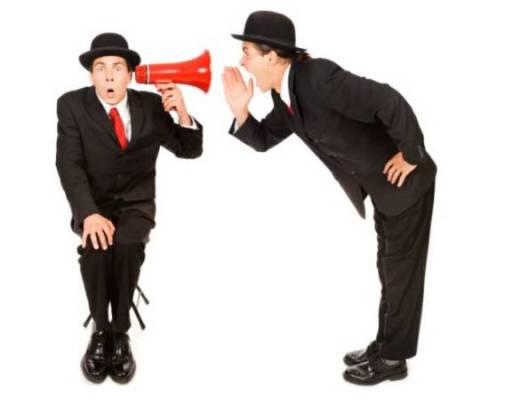 Fakta menunjukkan bahwa kebanyakan orang hanya mengingat 50% dari apa yang dikatakan seseorang dalam 24 jam. Sebagian orang malah hanya mengingat kurang dari 25% saja.
Kapasitas otak kita memang terbatas. Itu sebabnya kita takkan bisa mengingat semua yang terjadi sepanjang hidup kita. Termasuk isi percakapan yang kita lakukan dengan siapa saja dalam 24 hari. Parahnya seringkalai 'hilangnya' isi percakapan terjadi saat kita berada di tengah pembacaraan penting. Ketika mereka menanyakan isi pembicaraan yang sudah lewat, Anda lupa dengan apa yang baru saja mereka katakan. Kalau begini, Anda mungkin akan dianggap tidak menyimak atau malah dikira tidak tertarik dengan pembicaraan tersebut.

Namun jangan berkecil hati jika Anda mengalaminya. Nah, agar Anda tidak selalu kehilangan isi pembicaraan, cobalah beberapa tips berikut:

Quote:
Quote:
1. Take It Easy

Stres akibat pekerjaan menumpuk, deadline atau dalam keadaan membingungkan, sering membuat pikiran jadi tidak focus. Alhasil, ketika teribat dalam pembicaraan, Anda tidak menyimak semuanya karena (mungkin) pikiran Anda melayang ke persoalan tadi. Solusi: jangan panic, tetalah bersikaptenang. Tarik nadas panjang dalam-dalam dan katakana pada diri sendiri "Don't Worry be happy." Sikap tenang akan mempengaruhi daya kerja otak Anda. Dnegna tetap terkonsentrasi pada apa yang terjadi di depan Anda.
Quote:
2. Lakukan Visualisasi

Teman Anda sedang bercerita kepada Anda? Atau bos sedang menyuruh Anda mengerjakan sesuatu? Untuk membantu mengingat, coba buat gambaran di dalam pikiran. Kebanyakan orang lebih visual dibanging auditory sehingga Anda lebih mudah mengingat sesuatu yang Anda lihat di dalam pikiran disbanding apa yang Anda dengar melalui telinga Anda.
Quote:
3. Sebut Nama

Agar orang lain mengingat apa yang Anda katakana caranya dengan sering-sering menyebut nama orang tersebut di sepanjang percakapan. Secara psikologis, otak Anda deprogram untuk terus menerus mendengarkan saat naa Anda disebutkan. Jadi, jika Anda sering menyebut lawan bicara, kecil kemungkinan dia tak akan mendengarkan. Solusi: coba terapkan hal ini dengan keadaan sebaliknya. Jika ternyata lawan bicara tidak sering menyebut nama Anda, berusahalah lebih sensitive dengan sebutan orang kedua, yaitu 'kamu', Anda dan sebaginya.
Quote:
4. Ingat Pesan Mama

Masih ingat pesan ibu yang menyuruh Anda menatap mata orang yang sedang berbicara dengan Anda (lawan bicara) sebagai aturan sopan santun? Ternyata ini bukan seksedar aturan tata karma saja lho? Menatap mata orang yang mengajak bicara benar-benar bis membantu menghilangkan gangguan sehingga Anda lebih mudah mendengarkan berbeicara.
Quote:
5. Perintah Diri Sendiri

Anda akan sulit mengingat jika Anda tak merasa membutuhkannya atau jika tak memerintahkan diri Anda untuk mengingat. So, selalu katakana pada diri sendiri bahwa Anda ingin mengingat bagian tertentu dari percakapan itu dan konsentrasi pada bagian itu. Percaya atau tidak, cara ini akan meningkatkan kemampuan mengingat Anda samai 2 kali lipat. Ini disebabkan karena Anda mengingat apa yang ingin Anda ingat.
Quote:
6. Catat
Agar lebih ingat lagi, tak ada salahnya Anda mencatat poin-poin penitng dari sebuah pembicaraan. Kebiasaan mencatat ini merupakan cara yang paling efektif agar Anda tidak lupa dengan semua isi pembicaraan yang telah Anda lakukan
Quote:
7. Get Organized

Memang ritual yang sama setiap hari akan membuat pikiran dan emosi Anda mengikut pola yang sama. Itu sebabnya, Anda dianjurkan sesekali menyingkirkan rutinitas dari biasanya, Karena sesuatu yang baru, diyakini dapat menyegarkan pikiran dan berdampak positi bagi Anda. Meskipun begitu, untuk membuat pikiran Anda tetap sehat dan ingatan kuta, Anda disarankan menjalani hidup teratur dan terencana. Cara ini akan membuat Anda mampu mengingat sesuatu dengan mudah.
Quote:
8. Olahraga

Para dokter dan pakar kesehatan mengatakan bahwa olahraga dapat melancarkan dan memperbaiki sirkulasi darah ke otak. Hal ini akan member pengaruh positif pada otak. Otak dapat bekerja lebih segar sehingga akan memudahkan Anda untuk mengingat segala sesuatu yang akan dan sudah Anda lakukan.
Quote:
9. Belajar Menyanyi

Masih ingat bagaimaan Anda dulu bertambah kosakata bahasa inggris lewat lagu atau menangkap lirik romantic dengan bernyanyi? Memang musik sudah terbukti dapat memperkuat pikiran, menyalurkan kreativitas dan bahkan menyembuhkan tubuh. Dengan belajar bernyanyi, Anda tidak hanya menemukan suara Anda, tapi juga memperluas pergaulan dan mengembangkan daya ingat. Fakta: berkat The Mozart Effect, pelajar SMU di Amerika yang menyanyi atau memainkan music mampu mencapai 51 poin lebih tinggi pada ujian akhir nasional.
Quote:
10. Aktivitas Baru

Anda juga dianjurkan untuk melakukan aktifitas fisik baru untuk menyegarkan pikiran. Selama melakukan kegiatan fisik pikiran akan bekerja lebih aktif. Anda bisa melakukan olahraga baru atau rekreasi ke temapt yang belum pernah Anda kunjungi. Tanpa Anda sadari pikiran akan bekerja lebih aktif selama Anda melakukan aktivitas baru tersebut. Anda pun akan merasakan kepuasan dan ketenangan batik yang belum pernah Anda rasakan sebelumnya! Nah, setelah itu, otak Anda akan siap untuk mengingat hal baru lagi.