Perekayasa Amerika Serikat mengembangkan platform perangkat ultra-tipis yang fleksibel dan nyaman sehingga dapat ditempelkan di kulit bagaikan tato sementara. Perangkat tersebut bisa berfungsi sebagai sensor, membantu diagnosis medis, komunikasi, dan interface manusia-mesin.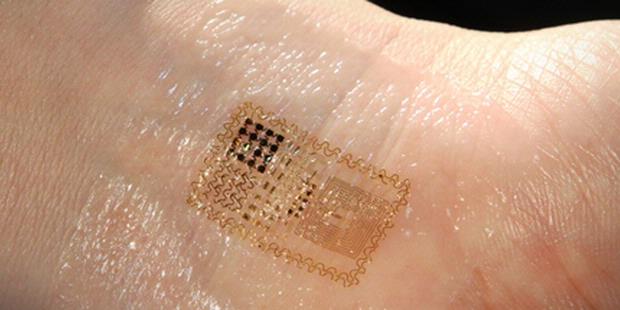 Perangkat itu memiliki rangkaian elektronik yang tersusun atas sensor, transistor, kapasitor, antena wireless, LED, dan panel surya. Rangkaian tersusun di atas lembaran berbahan serupa karet yang mampu mengembang dan mengerut, menyesuaikan dengan kulit.
Lembaran dengan rangkaian elektronik tersebut dipasang pada plastik yang larut air. Untuk memasang, cukup berikan air dalam jumlah sedikit dan tempelkan perangkat di kulit. Seketika, perangkat akan menempel dan fleksibilitasnya bisa diuji.
"Menurut kami, perangkat ini adalah sebuah konsep maju tentang elektronik yang bisa dipakai untuk mencapai sesuatu yang tak pernah terpikir oleh pengguna," kata Todd Coleman, professor teknik komputer dan elektronik dari University of California di San Diego yang terlibat penelitian ini.
Ia mengatakan, teknologi ini adalah terobosan baru dalam elektronika. "Teknologi ini bisa menghubungkanmu ke dunia fisik dan dunia maya dengan cara yang sangat natural dan terasa nyaman," lanjut Coleman seperti dikutip situs Physorg.
Manfaat yang sudah bisa dibayangkan dari perangkat ini adalah pada bidang medis, seperti analisis EEG dan EMG untuk mengetahui aktivitas otot dan saraf. Untuk melakukannya, tak perlu lagi penggunaan gel konduktif, plester, dan pin yang ditanam sehingga lebih nyaman.
"Kalau kita ingin mengerti fungsi otak dalam kondisi yang natural, maka ini sangat tidak sesuai dengan prosedur EEG. Cara terbaik melakukannya adalah merekam sinyal saraf secara natural, dengan perangkat yang tak 'terlihat' oleh pemakai," kata Coleman.
Perangkat ini juga bisa dipakai selama aktivitas normal untuk memantau kesehatan dan kebugaran. Saat tidur, perangkat bisa dipakai memantau status kognitif dan perilaku. Sementara itu, bagi penderita gangguan saraf dan otot, alat ini bisa dipakai berkomunikasi dengan komputer.
Di antara beragam manfaat, salah satu yang sudah dibuktikan adalah kemampuan perangkat membedakan gerakan otot tenggorokan ketika manusia melakukan percakapan sederhana. Ilmuwan juga sudah membuktikan bahwa alat ini bisa dipakai untuk mengontrol video game.
John A Rogers dari University of Illinois, pimpinan proyek penelitian ini, dan grupnya, memang terkenal dengan pembuatan perangkat fleksibel. Namun, untuk menciptakan perangkat yang nyaman di kulit membutuhkan paradigma produksi yang berbeda.
"Perangkat yang bisa meregang buatan kami sebelumnya tak sesuai dengan mekanofisiologi kulit. Kulit sangat lembut tetapi permukaannya bisa kasar, dengan tekstur mikroskopik tertentu. Ini membutuhkan pendekatan dan prinsip desain yang berbeda," kata Rogers.
Dalam produksi perangkat ini, Rogers bekerja sama dengan Yonggang Huang dari Northwestern University untuk mengatasi kesulitannya. Mereka menciptakan geometri perangkat yang disebut filamentary serpentine, yang dengannya rangkaian komponen bisa dibuat sekecil mungkin.
Huang mengungkapkan, "Di sini, penggabungan elektronika dan biologi adalah kuncinya. Semua pembuatan perangkat elektronik sulit dan kaku, sementara biologi lembut dan elastis. Ini dua dunia yang berbeda. Inilah cara untuk mengintegrasikan keduanya."
Untuk membuat perangkat ini secara massal, peneliti memakai adaptasi sederhana dari teknik yang digunakan dalam industri semikonduktor. Saat ini, mc10 (Roger ikut mendirikan industri itu) sudah siap memproduksi dan mengomersialkan produk tersebut.
Ke depan, peneliti masih akan mengembangkan produk ini dan menambahkan kapabilitas Wi-Fi. Hail penelitian Roger, Coleman, dan Huang dipublikasikan dalam jurnal Science yang terbit pada hari ini.